Your customized parts,Customized solutions
PRODUCTION DETAILS
| | |
| --- | --- |
| Technology : | Free forging / Open forging / Die forging / closed forging / Impression die forging / Flashless forging / multi-ram forging / multidirectional die forging / precision forging / croe forging / combination forging / extrusion forging / roll forging / reducer rolling / ring rolling / open die forging / flat die forging / loose tooling forging |
| Material Standard : | ISO / DIN / W-Nr / BS / EN / ASTM / ASME / AISI / UNS / SAE / JIS / SS/ NF / GOST / OCT / GB |
| Material Type: | Austenilic Ni-Cr Stainless Steel / Austenitic Alloy Steel / Austenitic Stainless Stee / Axle Shaft Steel / Bar Steel / Bearing Steel / Bolting Steel / Carbon And Low-Alloy Steel Vessels / Carbon Steel / Carbon Tool Steel / Carbon-Containing Alloy Steel / Case-Hardened Steel / Cast Steel / Cast-Steel Pipe / Centrifugal Steel / Centrifuge(D) Steel / Channel Steel / Chilled Hardened Steel / Chrome Hardened Steel / Chrome-Carbon Steel / Chrome-Molybdenum Steel / Chrome-Nickel Steel / Closed Die Steel / Coating Steel Pipe / Die Steel / Drawing Steel / Extra-High-Tensile Steel / Fabricated Steel / Ferritic Stainless Steel / Ferritic Steel / Figured Steel / Fine Steel / Flange Steel / Groove Steel / Hard Alloy Steel / High Alloy Steel / High Boron Steel / High Carbon Steel / High Chrome Alloy Steel / High Manganese Steel / High Nickel-Chrome Steel |
Production Flow Chart
1, Order Analyzing
Know requirements of raw material, chemical composition, Mechanical properties.
Analyzing how to forging and how to make heat treatment.
2, Raw material.
Use which raw material, plate, round bar, steel ingot.
According your parts, choose the best cost performance one.
If you required special material, will customized from steel factory.
Customized raw material according your requirments.
3, Forging
Make forging process chart and forging form
Make forging drawing
Make 3D drawing
Make forging mould
4, Pre - forging
5, Finish - forging
Natural gas
heating furnaces are monitored and controlled by computer programs to ensure precise heating within set
time and temperature range as required.
A broad range of forging equipment,including
friction press,
hudraulic
hammer, forging hammers.With the aids od intelligent
software,proper deformation,forging ration,ingot size and weight,forging tooling and equipment will be determined to ensure the wrought structure through hout and sound quality.
6, Pre- machining
7, Make UT (ultrasonic) inspection.
8, Make haet treatment
9, Inspect hardness and
mechanical properties.
10, Make precision machining / finished machining.
Use CNC machining center, CNC milling, CNC boring, CNC grinding
11, Inspect dimenssions.
12, Protecting and packing.
Show the production process as below photos: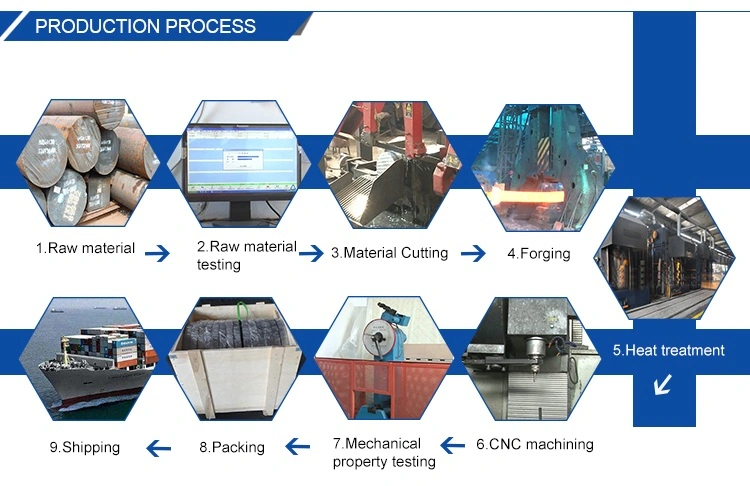 Our Products Catalogue
Item
Application
Technical
Material
Picture
Market
1

Aerospace

Forging - CNC machining

Alloy steel




USA
2
Aerospace

Forging - CNC machining

Alloy steel




USA
3
Engineering Machinery
Forging - CNC machining

Alloy steel




Britain Australia
Europe
4
Mining machinery
Forging - CNC machining
Alloy steel



USA Britain Russia
Ukraine
5
Auto Parts
Forging - CNC machining
Alloy steel



USA
Europe
6
Auto Parts
Forging - CNC machining
Alloy steel



Europe
7
Auto Parts
Forging - CNC machining
Alloy steel



USA
Europe
8
Marine Parts
Forging - CNC machining
Alloy steel



USA Britain Russia
Ukraine
9
Marine Parts
Forging - CNC machining
Alloy steel



USA
Europe
10
Wellhead equipments
Forging - CNC machining
Alloy steel



USA
11
Oilfield Equipment
Forging - CNC machining
Alloy steel